Filcro Media Staffing recruits (DOOH) Digital Out of Home and (PB) Place Based advertising sales executives for diverse media interests in local, regional, national and international markets.

With place based and out of home media platforms offering digital dissemination and the assimilation, of verified media metrics, the industry is experiencing exponential growth in market penetration and revenue.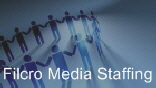 Building the proper infrastructure to monetize unique B to C and C to C opportunities abound once leadership and the accompanying media infrastructure is in place for selling, operating, disseminating, assimilating, traffic, inventory, sales planning, RFP responses, ideation and content creation or licensing. All these components are integral in the strategic and tactical success of DOOH and PB media platform monetization.

Genre, vertical and venue specific opportunities abound for companies capable of recruiting the proper executives to orchestrate the soft and hard assets required.

Out of home and placed based advertising revenue streams surrounding music, entertainment, automotive, consumer packaged goods, electronics, telecommunications, apparel, food services, beverage, travel, gaming and financial services are all examples of business verticals that Filcro Media Staffing has helped monetize by recruiting the appropriate executives.

Recruiting for the worlds largest media and entertainment companies and exciting new start-ups generating their first revenue streams; Filcro Media Staffing has the experience and capacity to attract the human capital required to bring well executed DOOH & Place Based advertising plans to fruition.