A Filcro Media Staffing sales executive search case history review


Regional Vice President Sales (RVPS)
Media Technology and Workflow Solutions
The United States and Canadian Territories



Based New York, NY - USA - New York Metropolitan Area
Executive Search Firm Filcro Media Staffing
Officer in Charge of Search Tony Filson reporting to the NSVPS and President
Client The World's leading media and broadcasting technology and media workflow solutions company.

Search Regional Vice President Sales - U.S. and Canadian markets

Client Situation With the expansion of broadcast technological resources, intellectual property and integrated media workflow solutions, there was a need to expand and optimize the sales organization in selected areas of the United States and Canada.

With a pending acquisition of a major competitor the President of the acquiring company was being proactive in securing additional business channels for monetization that would capitalize on the firm's enhanced capacity to play an even greater role within unprecedented ownership of the full cycle of the media workflow process to include seamless broadcasting operations, production, post-production and content management modalities.

The executive this position reports into is a gifted National Senior Vice President of Sales and he was quick to note and articulate the areas of responsibly, experience and product knowledge that this media technology executive would require to be successful on tactical and strategic levels as an individual contributor and leader of a honed group of regional sales executives.

Business Sector Inclusions
TV Production & Post Production

Motion Picture Production & Post Production

Broadcasting Production, Post & Technical Operations

Digital Production Technologists and Solutions Providers

Media Technology Providers and VAR's

Media Software Developers and VAR's

Content Management System Providers

Media Workflow Solutions Competitors

Developers of Advanced Media Technology and Research
EDIUS: Behind The Scenes
Filcro Media Staffing is Retained
Filcro Media Staffing's goals for this search were extensive. The firms recruitment efforts were targeted towards known entities and leaders in this space who were gainfully employed, happy and productive. The value prepositions of growth and financial success were real and transparent. Recruiting and attracting those offering everything the client was seeking was a tremendous amount of work drawing from every major media technology center in the United States and Canada until the ideal executive was identified, recruited and attracted at an aggressive cadence.

The new RVP we recruited would be responsible for the Eastern region territory and Canada and for developing and strengthening a set of accounts and vertical markets. Needed was a sophisticated manager to direct AE's, key relationships and ensure that the appropriate resources are available and focused to support the firm's selling objectives and relationship goals.

The territories including: Canada, Maine, New Hampshire, Vermont, Massachusetts, Connecticut, Rhode Island, New York, New Jersey, Pennsylvania, Delaware, Maryland, Virginia, W. Virginia, and Washington D.C. were extensive in geographic reach and media market penetration as the most sought after in the industry. This new RVP would require extensive acumen in these key media technology markets.

The ability to develop and implement sales plans by Account Executive and/or accounts aligned with market segment, geographic territory, and business portfolio in support of company objectives was essential as no two accounts were exactly alike in spend or need. The new Regional Vice President would have to meet or exceed sales objectives of the assigned region / accounts by promoting and selling solutions through professional relationships that often take many years to develop.

Filcro Media Staffing having recruited media technology leadership in the past as CRO's, CIO's and CEO's of the client's targeted media communities in broadcasting and entertainment afforded the firm a distinct advantage during the recruitment phase of the search. As the new RVP would have to provide reporting and forecast using the SalesForce automation and other tools, the officer in charge of search knew that the environments being drawn from would offer this level of sales reporting accountability.

Coaching and developing a professional sales team as a group and as individuals was a key concern of the hiring manager and the SVP being a honed mentor was seeking an executive who could build continuity in a market that rewarded longevity and delivering on promises.

Implementing and championing the company's sales process to establish a culture of "solution selling" at all levels of the customer's decision-maker hierarchy would be essential. C level and line personnel were all involved in the decision process for workflow solutions and this RVP would need to be very hands-on and effective at all levels of client engagement.

With so much of the media technology industry depending of national and regional events and shows to sell and spotlight product lines and services it was essential that we identify an RVP who was a welcome guest with exceptional interpersonal skills and product knowledge who could engage customers on a human and technical level as a solution provider and not a pushy salesperson.

Travel would be extensive to meet customers and to coach Account Executives in the field, this executive required a proven record of managing resources and staff in an organized and knowledgeable manner.

The Filcro Media Staffing Recruitment Solution

Filcro Media Staffing proceeded to identify national and regional media technology sales executives with a minimum of 10 years of tactical and strategic leadership.

We sought demonstrated acumen that was articulated and admired by peers and contemporaries competing in the same space who had direct interaction with this executive and their sales organization as a whole.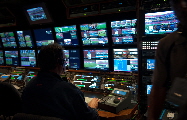 Of interest was legacy vs. digital media and the ability to sell to and across an emerging multicast, multi-platform industry managing teams that efficiently conveyed a solution selling message that was consistently increasing revenue.

As public speaking and C Level interaction would be the norm we also sought a special set of skills that even some effective sales leaders lacked in the ability to convey messages to important and at times large audiences.

Looking at the markets to be served we also wanted an executive who could create markets vs. being reactive. With so much of the media workflow solutions business being generated by the capacity to create more efficient and productive process this executive would need to have access above and below line on the client side to covey opportunities that can facilitate advantages in very competitive broadcast, production and post environments.

The officer in charge at Filcro Media Staffing also wanted to understand the executives coaching, mentoring and team building capacity. With consolidation and acquisitions taking place it was important to not only know who this executive is intimately but also the people he has hired and developed as sales professionals over the years. With an immediate need for an addition to staff in one of the new RVP's sales offices it was essential that this media technology sales executive was adapt at attracting sales executives who expressed success and continuity to create a stable and productive work environment.

Tony Filson as the officer in charge of search himself enjoys media technology and short of this executive reading white papers form Bell Labs every day there had to be an inherent curiosity and love for technology in this new RVP of sales. The client company known for being "The Cutting Edge" player in this space, the new RVP would have to be a bit of a Renaissance person with all things media. As complex and ever changing as broadcast and media technology can be, Tony Filson wanted an executive who can speak to any concern of a CIO, CTO, Producer, Director, Editor or Chief Engineer with aplomb.

The Talented New RVP of Media Technology Sales Recruited and Attracted
The OIC stated It was a personal and professional pleasure working with the Senior Vice President as the hiring manager and the President of Sales. Both are mature-minded, honed and polished executives and gentlemen who accomplished a great deal through this national executive search. Thank you. With over 25 years of media recruitment experience this was one of the most work intensive and rewarding searches conducted by the firm.
The new Regional Vice President of Sales attracted was from a direct and close global competitor of the client company.

With current North East U.S. and Canadian markets being areas of sales responsibility this media technology sales executive was well suited to optimize return from the most profitable territories in the media technology and media workflow solutions markets globally.

His broad media hardware, media software and media enterprise acumen was exceptional. With the capacity and experience providing media workflow solutions on a granular and enterprise level, this executive was an impressive contributor and leader.

Known for attracting and building individual sellers and selling teams this executive's reputation was impeccable. Media sales professionals wanted to work for him, enjoyed working for him and grew working for him. This was a man who attracted and developed media sales executives that everyone in the media technology industry wanted to hire based on his noted leadership and high hiring standards.

At public and industry events he was a consistent, noted and effective leader conveying his firm's message to industry leaders and decision makers. His capacity to translate media business goals into hardware and workflow solutions was unprecedented. He brought a human element to the process and developed relationships that granted him access to the largest purchasers of media technology in the world.
This executive's career ecology was a very close match to the client company's corporate ecology. Ready for a substantial increase in autonomy, compensation and a larger corporate structure this was a perfect match for the company and the recruited executive. The hiring company's culture was also a match as the SVP praised and rewarded performance in the same manner this new RVP was noted for. Both the executive and the client company believed in positive reenforcement and working with professionals as individuals with specific needs and desires for motivation. This was a complex modality that was shared and successful and played a key role as a catalyst this new relationship.

Once this new RVP was hired there were changes to the proposed corporate acquisition and also new corporate leadership was introduced. Without hesitancy the new RVP made the transition and is today one the firm's noted press announcements profiling their continued dominance in media technology and media work flow solutions.