Executive Producer | U.S. Radio and Online Digital Broadcasting | Retail Financial Markets
Executive Producer
Global Financial Markets and News


Search Radio & TV Executive Producer – Atlanta, GA
Search Firm Filcro Media Staffing - New York, NY
Search Group Production
Officer in charge Tony Filson
Reporting to CMO
Client
U.S. based media, marketing and advertising firm devoted to the financial industries. The firm manages approximately $700M USD of diversified TV, Radio and Online advertising for some the world's largest and most respected financial institutions.

Client Situation
The CMO identified Filcro Media Staffing to conduct (3) three searches relevant to the expansion of the firm's media and creative offerings for America's largest financial institutions.

The current media spend at $700M was a sizable budget. The CEO and CMO retained Filcro Media Staffing to increase revenue to over one billion USD at an aggressive cadence.

Tony Filson was asked to function as officer in charge of search to coordinate the identification, recruitment, attraction and relocation of the media executives required to grow the business as he had worked with the clients customers to identify their internal global heads of media, marketing and communications. There was no conflict of interest, retaining Filcro Media Staffing

The recruitment of the proper radio / TV executive producer would be vital to meeting the company's immediate and longterm business goals.
Member Industry, geographic and Sector Inclusion
Radio Broadcasting
Television Broadcasting
Independent Producers
Podcast Producers & Financial Influencers
Tony Filson (TF) functioning as Officer in Charge of Search in New York reporting to the CMO Chief Marketing Officer in Atlanta, GA.

Filcro Media Staffing is Retained

Filcro Media Staffing proceeded with a close examination of the firm's current resources devoted to cultivating and managing the entire production process from business, technical and creative perspectives.

Since Filcro Media Staffing was also charged with recruiting a new Media Director and Associate Producer this Executive Producer was a critical hire for the CMO that would directly affect the firm's revenue goals.

With over $665,000,000 in current media spend the proper executive producer would have to have had experience building a major market highly successful radio / TV franchise broadcasting across multiple audio and video media platforms.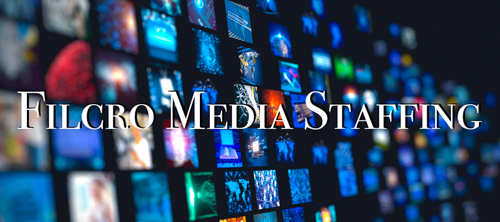 Based on the budgets, the search started in New York, Los Angeles and Atlanta.

None of the candidates approached for this executive search were actively seeking employment. Additionally, it required an extensive network developed by Filcro Media Staffing to get direct contact with some the most prolific and successful executive producers in the history of broadcasting, from a financial genre perspective.

Current contract restraints, relocation, co-ownership of a media brand and other issues were initial hurdles in attracting and recruiting the caliber of executive producer required.

Understanding who we wanted was critical. However, learning about the personal and career ecologies of each executive we targeted was of equally importance. Bringing this search to fruition was about lifestyle and transitioning to a market or geographic none of the executive producers had probably ever contemplated.
Challenges Facing the New Executive Producer (EP)
Establishing New Production Standards
Honing Production and Post Workflow
Collaborating With Financial Industry CMO's
Hiring New Production and Post Staff to Implement Changes
Instituting Enhanced Media Metrics and Analytics
Building New Cross-Platform Standards for Video and Audio Products
Filcro Media Staffing's Recruitment Solution
Filcro Media Staffing proceeded to Identify and recruit the "leading executive producers" involved in every aspect of meeting or exceeding the client's business, technical and creative goals.

Filcro Media Staffing ultimately identified the new Executive Producer by tiring the search into (3) distinct categories and weighting (9) variables that permitted a matrix of (27) determinants to clearly showcase the top (3) candidates from a total universe of (62) Executive Producers.
The Executive Producer Recruited
An industry veteran with a proven track record of success monetizing some the most successful media franchises in the United States.

His career spanning with Cumulus, Citadel, Cox and ABC expresses the proven experience the client was seeking in building media franchises and bringing about continuity in cultures similar to the environment the CMO was seeking to create.

From an operational, creative and programming perspective the new executive producer had built impressive media brands but was also noted for building people. The work environments under his leadership were noted as positive places to work that mentored and developed a number of executive producers that went on to experience great success.

On strategic and tactical levels this executive producer was a great asset in producing and monetizing highly profitable programming. Stressing his tactical achievements was important to everyone as a hands-on approach would be needed to implement so many changes in a brief period of time. This was an executive who could be a true change agent in an organization taking a big step to meet or exceed their goal of one-billion dollars in media management for a sophisticated client base consisting of the world's most respected financial institutions.

The new executive producer has made a quick and seamless transition to the new company.

The CMO and CEO are very pleased with the business, technical and creative experience brought to the firm through this executive search.