Filcro Media Staffing recruits for a multitude of TV, Radio, Ad Agency, Studio & Digital Production, Post and Development executives on varied levels from Presidents, Vice Presidents, Executive Producers, Writers/Producers, Co-Producers, Directors, Editors, Editors-in-Chief, Directors of Production Operations and all the associated Production and Post technology leadership required.

The firm also recruits print and digital production writers, editors and editor-in-chief leadership for the "integrated owners" of print, digital and broadcast properties. Filcro Media Staffing offers specialized recruitment of editorial leadership as EIC's and Digital Producers of content. The firm is the most comprehensive media centric executive search firm in the world.

Since 1985, Filcro Media Staffing has been recruiting and relocating production executives to and from all 200 US DMA's as well as the MENA, EU, ASIA and LATAM media markets.

From TV networks, syndicated producers, global newsrooms, sports stadiums, motion picture studios, advertising agencies, the Fortune 50-500 and governments, Filcro Media Staffing is a specialized executive search firm devoted to the media, broadcasting and entertainment industry's most demanding recruitment needs. Case Histories
When multinationals like a FedEx Prudential or MetLife with substantial internal and external media interests require media recruitment expertise, for creative production, marketing and corporate communications, they also, utilize Filcro Media Staffing. Short form or long form, FMS delivers.
Filcro Media Staffing has a noted reputation of accomplishment recruiting creative leadership and creative technology resources confidentially and expeditiously under challenging circumstances. The firm recruits for news, sports, motion picture, music video, advertising, TV and cable broadcasters, corporate communications, NGO's and governments with demanding production needs in every media market in the world.

A Director of Production, Executive Producer, Writer/Producer or Vice President in Charge of Programming and Production or a Co-Producer managing other writers can all have similar or dissimilar creative, strategic and tactical responsibilities based on the organization. The ideal is to identify production and development executives who fit not only the genre but also culture, workflow, budget, technologies and the creative environment to meet the client's business, creative and technical objectives.

If a change agent or a succession plan is relevant, recruitment can be as verbose or confidential as required to assure that internal and external interests are served. We even recruit the talented on-air promo producers who drive audiences to your content by writing and creating award winning product (PROMAX) that can open new audiences and increase ratings for current and future programming.

Filcro Media Staffing brings forward integrated multiplatform multiplex multichannel acumen when recruiting for producers and production leadership. The firm's approach assures cross-platform success for TV, OTT, online, mobile, DOOH and OEM's when developing, producing / post and dissemination. Our firm is as creative in our recruitment practices as the talented writers, producers and post-production executives we recruit, and their technologists.
Technicolor is a prime example of cutting-edge leadership in our industry that consistently innovates even through corporate transitions. They are creative pioneers in developing new technology and superior workflow modalities for the motion picture studios, TV networks and a new breed of digital producers for current and future media platforms we recruit for. Another firm we enjoy working with is Grass Valley for our station, station group, sports and TV network clients. It's an honor to recruit for companies we so admire that are also the vendors to the 100's of clients we serve by recruiting their critical business, technical and creative production leadership.
Enhanced Comprehensive Production & Post
Filcro Media Staffing recruits for all types of producers, writer/producers, programming and development executives across multiple genres for a multitude of content creators. News, Sports, Comedy, Drama, Scripted Series, Animation, Business, Finance, Merchandising, Music Video, Reality, Advertising, Educational, Digital Print Brand Integration, Travel & Leisure, Religious, Lifestyle. Motion Picture Studios, Syndicators, Post Technology Houses, Advertising Agencies, Public / Private Radio, Digital Magazine Publishing, Public TV, NGO's, Governments and Corporate Video Production as well as all Major TV Broadcast, Cable Networks and OTT.

Filcro Media Staffing's recruitment experience and contacts within the production communities in New York, California, Canada, DC/MD/VA, Hawaii, the MENA, LATAM, ASIA and EU allows the firm to function with the same efficacy throughout the entire United States and OCONUS for our domestic and international clients.

Filcro Media Staffing recruits the executives who develop programming, produce creative content and set standards in the most competitive markets in the world. Through honed recruitment resources and over 30 years of solid relationships in the industry, our history is rich based on who we serve.
Perhaps grab a coffee and listen:

With ancillary revenue streams and multi-cast, multi-platform distribution to include On-Demand, Internal CMS for OEM partnerships, mobile, broadband, OTA, OTT, MSO, DOOH and satellite platforms all playing synergistic roles for monetization, Filcro Media Staffing also attracts the talented production technologists needed to assure that creative and technology goals are met.

Our clients enjoy a collaborative environment dedicated to media executive search where business, technical and creative considerations are completely devoted to the media, broadcasting and entertainment industries.

Filcro Media Staffing recruits honed media executives that create award winning, highly profitable content.
Home | Practice Groups | Production Technology | Production Sales | Post Production | Employers | References
For production services sales, production services vendors and production technology please view both of our sales and technology groups. Questions?


Filcro Media Staffing's extensive TV broadcasting, advertising agency and motion picture recruitment experience for post production personnel has taught us that more coffee and sandwich plates are allocated to this area than any other.

The post production creative, technical and business executives we recruit are exceptionally talented people.

Filcro Media Staffing understands the capabilities, systems, software and human elements required to optimize work-flow and creativity. We recruit the right management, editors and technologists to optimize your equipment, genre, culture and budget.
Systems technology, software and workflow change rapidly in post production. Multiple generations of equipment, new build-outs, software migrations, platform integration and new clients internal and external to your facilities, at times, require skills sets and experience, new to your organization.

Filcro Media Staffing recruits for sophisticated single and large multiple suite post/production environments in TV Networks, Advertising Agencies, Motion Picture Studios and News Organizations with robust real-time multinational post-production capabilities.

Filcro Media Staffing recruits for the entire post-production chain

Some of Filcro's clients have 24/7 edit suites that work collaboratively in real time between New York, Los Angeles, London, Paris, Madrid, Tokyo and Dubai. Our firm recruits the editors, systems professionals and post-production executives in charge of these areas.

A great many of our clients work extensively in the cloud with shared resources. Filcro Media Staffing recruits for the LAN/WAN/SAN, CMS, CDN and creative cloud personnel required to integrate and provision creative and technical services to work across complex IT infrastructures in multinational configurations.

An editor sitting in New York for a global advertising agency can be directed by an automotive client's CMO in Detroit, as the regional CMO for Asia gives their input for additions to their market's sensitivities or even last minute changes to VFX and color.

Filcro Media Staffing has provided the talented creative and technical personnel for production trucks parked outside of Yankee Stadium, Giant Stadium, Madison Square Garden, Radio City Music Hall, Fenway Park, Wrigley Field and countless other sports, music, news and corporate events.
For real-time monetization we provide the talent that can direct an editor in Tokyo from New York with robust tools that make real-time domestic and international commercial insertion seamless with play-by-play B2B, B2C and C2C provisioning for Olympic or Pro Sports.

Our client's newsrooms in Washington, DC and New York can direct editors, producers and writers in multiple languages globally for on-air and re-purposed content for mobile platforms. Filcro Media Staffing recruits the talent to make your business goals a reality globally on multiple platforms.

From newsrooms, sports stadiums, advertising agencies, production houses, motion picture studio lots, stations, station groups and networks, Filcro Media Staffing brings forward the business, technical and creative talent to assure that US, LATAM, MENA, ASIA and EU creative business goals come to fruition.
From PROMAX, EMMY's, ADDY's, HPA to the Oscars the post production editors and the technologists who make it all possible, are recruited by Filcro Media Staffing.
Home | Practice Groups | Production Technology | Production Sales | Post Production | Employers | References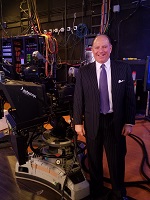 Filcro Media Staffing has a special relationship with our clients, that is reflected in our 24/7 devotion globally.

From New York to Los Angeles, Tokyo to Dubai and even Kabul the firm brings forward award winning production, post and BO&E leadership to meet the creative, technical and business recruitment needs, of those we serve.
Tony Filson
President & CEO
Filcro Media Staffing