Filcro Media Staffing recruits origination and production sales executives in diverse U.S. markets. Below is an example of a Filcro Media Staffing origination and production executive search sales case history for review. Based on the executive search being conducted, these additional sales, production or technology recruitment environments could be of equal interest.




Senior Vice President Sales (SVPS)
TV and Digital Network Origination, Production and Creative Services



Based DFW, TX - USA - Dallas, Fort Worth Area
Executive Search Firm Filcro Media Staffing
Officer in Charge of Search Tony Filson reporting to the President
Client Emerging national provider of TV Network origination, production and broadcasting creative services for TV broadcast, motion picture and digital media platforms.

Search Senior Vice President Sales & Operations - National

Client Situation An investment group, led by individual investors, funded the expansion of broadcast, technology and production services infrastructure of an emerging national player in TV Network Origination. The owners were seeking a honed change agent to bring their business and investment goals to fruition.

The new president, as a key investor, contacted Filcro Media Staffing to engage the firm in setting a course of action from a recruitment and management consulting perspective for strategic expansion, monetization and operational guidance subsequent to CAPEX.

Business Sector Inclusions
TV Production & Post Production Studios

Motion Picture Production & Post Production Studios

Broadcasting Production, Post & Technical Operations Companies

Digital Production Technologists and Solutions Providers

Media Technology Providers and VAR's

TV Network Origination and Production Services Providers - RF, Cloud, Sat, Fiber

Media Workflow Solutions Companies

NOC, Headend and Teleport Facilities
Filcro Media Staffing is Retained
Filcro Media Staffing's goals for this executive search were threefold.
Monetization

Operations

Market Expansion
The president of the client company brought forward a clear vision and realistic business goals that he was able to articulate concisely. The president granted Filcro Media Staffing unusual autonomy, so his objectives could be met expeditiously.

Filcro Media Staffing's Officer in Charge of the search, proceeded with TX, GA, NC, NY and CA universe compilation to tier the search appropriately.

Eight (8) possible business organizational structures in three (3) geographics with three (3) categories for tiering were established with a total universe upon completion of six (6) finalists with three (3) on the first tier. One (1) candidate was hired as SVP and another is slated for future employment a month after the SVP was hired. National monetization, Operations and National Market Expansion would be facilitated and expedited by hiring both executives at an accelerated pace.

The Filcro Media Staffing Recruitment Solution

Separating the strategic business leadership, broadcast and production operational experience and sales expertise into logical silos, it was apparent that NY or LA also needed to be key players for new business development while TX managed BO&E, production, post and optimized local and regional clients then manages nationals as they were introduced.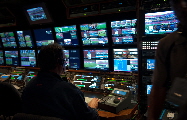 Once the final tiers were established and the firm's "ideals" identified, assuring a cultural fit came next.

With the firm's ecology positive and now under management that was seeking growth, it was also important the new SVP have a similar personal and professional ecology to assure continuity.

The executive search was evolving into the perfect group of scenarios for the president as early as four (4) weeks after retaining Filcro Media Staffing. In eight (8) weeks, the new SVP was identified, recruited, attracted and accepted the offer made by the firm.

During the executive search process, with Tony Filson functioning as the officer in charge, he also identified an individual that he felt could help the firm strategically. The president of the client company agreed and is seeking to hire this executive also. This executive search and the strategic advice obtained facilitated an expedited time-line to the president's business and monetization objectives.

The Talented New SVP Recruited
Filcro Media Staffing worked outward from the DFW area and ultimately, New York, Los Angeles, Atlanta and North Carolina contributed to the initial universe.

Of the two executives being hired based on this executive search, Texas and Los Angeles produced the SVP and VP respectively.
The new Senior Vice President of Origination Sales and Operations was an industry veteran with exceptional soft and hard skills. Attracted from a larger company and direct competitor in the region he earned a reputation for being innovative and building upon solid business practices. This executive turned an in-house facility servicing a national electronics retailer into the largest and most successful company of its type in the region.

The new SVP also had a reputation of building unusual esprit de corps and the president of the client company now reorganizing and optimizing the reporting structures in the company needed someone with exceptional management skills.

This Texas based company that retained Filcro Media Staffing to conduct this executive search has exceeded every business and monetary objective planned.
This Case History: PC or Mobile
Recruitment Group: PC or Mobile
Employer's Page: PC or Mobile